Blender Builds
MiikaHweb provides OpenMP and CUDA enabled Windows builds of Blender development versions.
There are two different builds available: a 64-bit build for new systems and a 32-bit build for older systems.
General notes
Compiled using Visual C++ 2008
Blender 2.5x uses Python 3.2. (If you don't have it: download Python 3.2 here)
Uses OpenMP to multithread the program. Therefore cloth/softbody/smoke/particle simulations etc. can utilize multiple cores/processors.
SVN
Downloads
Blender 2.67.1 Trunk (32-bit + 64-bit)

r56923

Date: Yesterday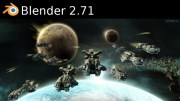 This is the official SVN Trunk version of Blender. Compiled with OpenMP, OSL and CUDA.
Next release development targets
---
francois
Sep-14-2009 22:32
francois
Sep-15-2009 17:27
francois
Sep-15-2009 18:46
francois
Sep-15-2009 22:14
francois
Dec-21-2009 10:28
francois
Dec-21-2009 11:05
Steve Boyer
May-01-2010 17:50
Steve Boyer
May-01-2010 18:03
Juang3d
Jul-26-2010 17:03
Juang3d
Jul-26-2010 17:36
Juang3d
Jul-27-2010 20:15
Juang3d
Aug-01-2010 20:06
Juang3d
Aug-01-2010 20:32
Juang3d
Aug-01-2010 20:59
Licuadora
Sep-22-2010 02:00





PerfectionCat
Sep-28-2010 01:04
PerfectionCat
Sep-28-2010 04:07
PerfectionCat
Sep-29-2010 06:31
PerfectionCat
Oct-22-2010 01:47
BlenderManiac
Dec-29-2010 18:10
Eonmach R
Apr-23-2011 02:33
TheElwolf
May-02-2011 20:04
Germanny
Nov-15-2011 17:44
Germanny
Nov-15-2011 20:39
aneyevuproduction
May-19-2012 16:02
Larry Phillips
Oct-27-2012 23:31
Nicolai
Dec-19-2012 14:11
Todd McIntosh
Dec-21-2012 13:51
jasonhan
Jan-07-2013 20:56
MohamedSakr
Feb-12-2013 07:21
Juergen
Mar-20-2013 13:57
mike kelly
Mar-24-2013 05:56
mike kelly
Mar-24-2013 06:00
ymtaufik
Apr-08-2013 01:00