"Soc-2012-bratwurst" branch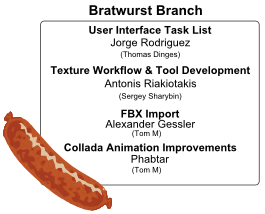 Commits by Date
Date
Number of Commits
January, 2013
1

December, 2012
0

November, 2012
1

October, 2012
0

September, 2012
2

August, 2012
57

July, 2012
82

June, 2012
122

May, 2012
29
Latest commits
January 7, 2013, 07:56 (GMT)
November 4, 2012, 07:06 (GMT)
Collada Code Fix
September 26, 2012, 14:53 (GMT)
September 10, 2012, 20:35 (GMT)
- bf_assimp: fix mesh ref counting bug.
August 31, 2012, 22:23 (GMT)
August 27, 2012, 01:33 (GMT)
- bf_assimp: strip root node if possible.
August 26, 2012, 23:34 (GMT)
*POST-GSOC-FROM-HERE!-TAG* - ext_assimp: merge
https://github.com/acgessler/assimp-gsoc2012-fbx
proper framerate conversion, fixes crash when assigning animations to root node, keep Null node info, support scenes with no geometry in them, massive logging cleanup (fewer but more concise warnings), performance improvements.
August 26, 2012, 13:20 (GMT)
Scons:
* Fix scons compilation, by moving some arguments to the second argument list.
August 21, 2012, 18:15 (GMT)
August 20, 2012, 17:31 (GMT)
---
MiikaHweb - Blender SVN Statistics v1.34
---