---

Feb-20-2010

0 Comments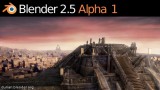 A new Blender testing release 2.5 Alpha1 was released today.

To find out what is new in this release compared to the stable version (2.49) check out Release Logs on Blender site.

Alpha 1 can be downloaded from Blender official site. Alternatively you can download a recent SVN 27027 from MiikaHweb Blender Builds -section.
---
---