---

Jul-06-2010

3 Comments

I have just finished a new patch to improve Blender 2.5 smoke simulator.


The major changes in this patch are:

Smooth High-Res Emitter
When using high resolution, the smoke usually gets blocky around the emitter.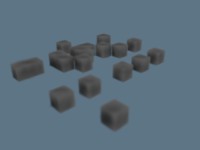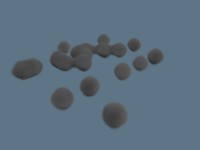 This patch adds a new setting to use "smooth" emission. (Right image)
Additive Emission
Now it's possible to make emitter to add density values to current density in the scene. So you can use low density emitter, like 0.1, and still have dense smoke. This allows even smoother emission.
Changing smoke vorticity
This patch allows you to change smoke vorticity. It defines how much turbulence or rotation fluid has. So lowering it gives you very smooth smoke.
I made this candle simulation using just 0.1 vorticity:
Some minor updates are: domain border collision settings, "Time Scale" slider and "Initial Velocity" multiplier.
You can check complete changelog here:
Patch changelog
And download the patch here:
Download the patch
Also my Blender Builds are using this patch.
So just download a build here
.
---
ValterVB
Aug-01-2010 20:05
Peter
Sep-26-2010 15:06





---