---

Sep-05-2010

7 Comments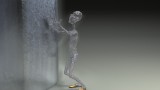 I just finished coding "paint effects" system. Now it finally works over UV-seams well enough.


Here is a short animation demonstrating spread effect on a 3D surface: Mancandy Freeze.


In that video, paint output is simply being used as a stencil mask for ice textures.

I'm also thinking about renaming this system to "Dynamic Paint", because now you don't only paint with mesh but with particles and other stuff as well.
---
Tobias
Sep-05-2010 09:43





EverSimo
Sep-05-2010 15:49





blenderificus
Sep-06-2010 00:06
Serpent36
Sep-06-2010 00:23





Reekdeb
Sep-07-2010 04:05





---