---

Dec-19-2010

12 Comments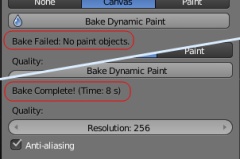 Yesterday I found an easy way to report Dynamic Paint status without console. Just show the result within the ui - like many other Blender parts have done for a while. Yet, I never figured it's possible to do that. :x

Now, when baking is done you get a new text field below the bake button that tells you what happened. On a successful bake it just reports "Bake complete! (Time: -)". In case of an error, like missing UV data or no paint objects in scene, you'll get an error message that tells you what's wrong.

Of course all this info has always been visible at console, but now it's easily visible within the ui! Still can't believe I didn't figure this out earlier. x_X

EDIT: I also added Blender 2.5x style error and warning messages in case of a non-successful bake.
---
---