---

May-17-2013

18 Comments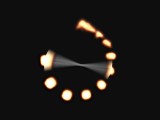 One of the remaining "easy-to-fix" issues with Blender smoke simulator has been that you can't have fast moving objects emitting smoke. At least not that easily or smoke flow would leave behind a bunch of disconnected dots instead of continuous flow of smoke.

Now I have committed subframes for smoke flows. That means you can define how many additional time samples will be taken between each simulation frame. Below is an example of a fast moving particle with multiple subframes and no subframes:





One thing to notice is that this is a flow setting, not domain one, for couple of reasons. First of all, subframes are applied only in the emission phase. Simulation itself won't calculate additional time samples, so there will be no change in behavior of the fluid and you can use very high subframe counts with only minor performance drop. Also this allows you to enable subframes only for smoke flows that move fast enough to benefit from it.


Another new thing is ability to define size of flow particles. Previously it was common issue that when you increased domain resolution for final bake, particles became way too small. Now you can just increase particle size if needed.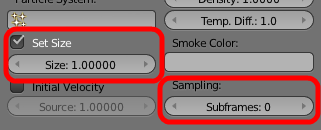 These new size based particles are also compatible with my previous "full sample" high resolution update. So no more blocky particles either. Besides, this allows using smaller than "low res cell" sized particles, so you can have detailed tiny particles without having to increase simulation base resolution up to several hundreds like before. It's enough to just increase high resolution divisions. :)


Here are couple of renders from my subframe test scenes:



These new features are available in Blender trunk builds of revision 56884 and higher.
---
Internet Explorer
May-18-2013 11:11
Google Chrome
May-24-2013 06:54





Kirill
May-25-2013 13:41





Felix41
May-27-2013 00:23





Luke9748
May-28-2013 01:21





InigoT
Jun-09-2013 02:04





Guest
Jun-09-2013 02:13





Matthew Merkovich
Jun-14-2013 19:15





Matthew Merkovich
Jun-14-2013 20:42





Jerryno
Jan-08-2014 15:06
---