---

Oct-10-2010

0 Comments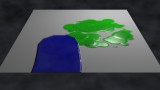 First part of my Dynamic Paint guide is now out. It covers all Dynamic Paint Canvas settings. Rest of the guide (Paint settings) will be released within a week. I'll also make improvements to the existing parts and add some downloadable .blend file samples later.

Check it out here : Blender: Dynamic Paint Guide.

And feel free to inform me if you find some parts confusing or need more info. Otherwise I might not be able to improve the guide. :)


I also posted yet another Dynamic Paint update: v.1.05 fixes some issues with displacement maps and slightly improves effects system.



EDIT 2010-10-18: I've been busy with other things lately and can't focus on writing the second part of this guide. It will be delayed for a week or so. :p

Dynamic Paint patch is now updated to version v1.06. It fixes compatibility with recent SVN version plus some Mac OSX related issues, thanks Jens Verwiebe for reporting those!

EDIT 2010-10-22: Dynamic Paint v1.07 released. It restores compatibility with latest SVN and fixes some issues with textured and face-aligned proximity painting.
---
---