---

Nov-30-2010

5 Comments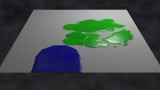 It's been more than a month since I released the first part of my Dynamic Paint guide. Now the second part is finally here.

It took way too long and I'm still not quite happy with some parts of it. But I have been completely missing my motivation to touch it. This guide has been like 90% done for up to two weeks. x_X

This second and final part of the guide explains all paint object related settings and also includes some downloadable .blend files.

Here is a render from one of the samples: Wetmap textures for fluid simulations.

---
kilikoro
Dec-01-2010 12:54
kilikoro
Dec-01-2010 13:01
---